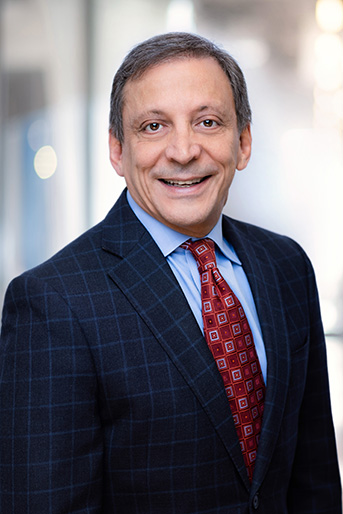 Gary Epstein joined Hilco Global in 2012 and is responsible for the company's overall marketing strategy, customer relations management, global branding, market research, and corporate communications. He works closely with all Hilco Operating Company management leaders in developing and implementing their specific marketing plans and programs.
Prior to Hilco Global, Gary built a highly diversified career in corporate, institutional, and consumer brand marketing, having served for more than 35 years as a senior level advertising agency, media company, and client marketing executive.  Gary began his career in marketing having built his reputation as a brand strategist and innovator while managing some of the largest and most iconic brands in the world including Procter & Gamble, Kraft Foods, Darden Restaurants, Ralston-Purina, L'oreal, Alberto-Culver, etc.  During his tenure, Gary held executive roles at some of the biggest global agencies including J Walter Thompson and HAVAS Worldwide.  At HAVAS, in 1999 Gary was named the youngest CEO of the North American region, responsible for 6 offices, $1.7 Billion of annual billing and 1200 employees.
Gary' experience also includes serving as CEO at an innovative digital media start-up called REACHMD LLC, where he ran a multi-channel media network which featured a 24/7 Sirius-XM satellite radio station, and one of the first iPhone applications to be featured in Apple's national TV ads.  Having successfully built the company to more than 3.2 million listeners and millions of digital followers, the investment group sold the company in 2011.  Prior to ReachMD, Gary served as Chief Commercial Officer at the American Medical Association where he was responsible for increasing the organizations revenue through new products and branding programs which enabled them to successfully improve their lobbying effort on behalf of Americas physicians in Washington DC.
In 2000, the American Advertising Federation inducted Gary into its "Hall of Achievement," honoring outstanding marketing and brand professionals across the nation. He was also named as one of Chicago's "40 under 40" top business leaders.  Gary graduated from the University of Michigan with a BA in Marketing, and he studied international marketing at the IMD in Lausanne, Switzerland.
Gary has served on the board of the University of Michigan's School of Organizational Studies, The Secured Finance Network, The Turnaround Management Association, and the American Advertising Association.  His philanthropic efforts include leading the Hilco Helps corporate giving program which has raised millions of dollars for underserved children in cities across the nation.  He is also plays and active role working to help vulnerable kids for organizations like Youth Guidance, The All-Stars Project, and JUF.
University of Michigan

B.A.
Thoughts from Gary C. Epstein
Of all the assets a company owns, the brand reputation is the most important and the toughest asset to build and sustain. Management changes. Factories shut down. Machinery wears out. Inventories get depleted. Technology becomes obsolete. Building a strong and sustainable brand perception is the true foundation on which business leaders can build enduring, profitable growth.
Hilco Receivables
We Wrote the Book on Commercial Trade Receivables Collections
View Company Page
Hilco Global
As a diversified financial services company Hilco Global delivers unsurpassed asset knowledge and expertise to help companies maximize asset value and financial returns at critical inflection points throughout their lifespan.
Let's connect and work together
If your business or a business in your portfolio is facing a current challenge, our team can provide a qualified perspective and experience-based guidance toward an optimized resolution.
Contact us